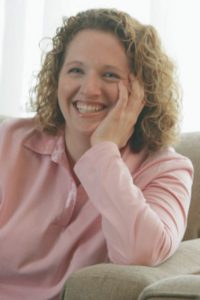 About the Author
USA Today bestselling author of hot and sexy romance, and if you think the books are funny, romantic comedy. If not, forget that bit. Yogaholic, planner obsessed, messy mommy & bad-ass challah baker. Firm believer in house pants.
What inspires you to write romance books?
I need to feel hopeful, to laugh and smile and daydream. Romance helps me get to that place when life gets to be a bit much. Romance is my happy place, my comfort zone. Plus, I get to cover my instagram with hot guys and call it inspiration.
Tell us about how you write:
I have tried everything, well, except scrivener. I've wasted years trying to write the right way. And… it doesn't work for me. What works is what I've done from book one, NaNoWriMo 2004. Think up some fun people who would be hot together and let them play. For me, this is actually more efficient than any planning, plotting, plotstorming, chunking, notecarding, do-it-my-way I've ever tried.
My best books were drafted quickly, start to finish, in Word, on an AlphaSmart, or with a pen and paper.
Do you listen (or talk to) to your characters?
Listen. I wish I could have conversations with them. But then I'd have to be a character in the story and that would make me self-conscious.
What advice would you give other writers?
Read. Read romance. Put down the craft books and read until you fall in love. Soak up that feeling. Methods don't matter. Sharing that feeling with someone else does.
How did you decide how to publish your books?
When I started, traditional publishing ruled the land. Anyone who dared buck the system was sneered at and called a vanity publisher. E-first was just starting. If you wanted to be an author, your goal was a publishing contract.
My first books were with Mills & Boon, the London branch of Harlequin that edits the Presents line. A friend was editing for Samhain, and encouraged me to submit there. They paid monthly, and my first royalty statement on one book was almost as much as my advance at Mills & Boon. Where to publish next wasn't a hard decision.
Samhain and I had some wonderful years together. The publisher built and so did my brand. We were mentioned on GMA, on the jumbotron in Times Square, featured in book stores – it was a wild ride. I was blessed that it lasted so long.
I wanted to expand a bit and got a contract with St. Martin's for steamy romcoms. Then Entangled bought my billionaires. And cowboys. And more.
I had tried my hand at self-publishing with my erotica titles and hadn't found much success. I'd learned all I could and tried indie publishing again with my Under the Caribbean Sun series. I'm not sure why, but they don't sell like my traditional titles do.
I'm going to figure it out. I think it's smart business to have a traditional and indie career.
What do you think about the future of book publishing?
I love that readers have more control thanks to indie publishing. Books come out faster, readers can have a conversation with the author and other readers about what they're dying to read. It's become more of a community.
I believe traditional publishing has a lot to offer as well. Not every author can our should self-publish. It's so much work, and it takes away from your writing time. There's a huge benefit to having professionals handle things that you're not the best at.
The future? It will be what readers want. It's their party. Publishers are the party planners, authors are the band. We can set it up, but it's not a party until they walk in and start dancing.
What genres do you write:: contemporary romance, romantic comedy, erotica
What formats are your books in: Both eBook and Print
Website(s)
Author Home Page Link
Link To Author Page On Amazon
Link to Author Page on other site
Your Social Media Links
https://www.goodreads.com/author/show/1218112.Jenna_Bayley_Burke
https://www.facebook.com/jenna.bayleyburke/
https://twitter.com/jennabb
https://www.pinterest.com/jbayleyburke/